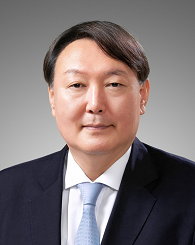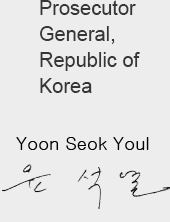 Greetings!
I am Prosecutor General Yoon Seok Youl.
I feel a great sense of responsibility since I took office at a time
when the public desire for new Korean Prosecution Service (KPS) is
very high.

First of all, the KPS is committed to "being with every citizen."
The authority the public allows us will be exercised under the law
only for the public.
In the pursuit of checks and balances between truth and human's
basic rights, we will carry out what the Constitution says.

Supporting socially vulnerable people, we will always serve the public
by sternly holding those who wield power accountable for their
abuses and violence.

To become "the KPS of the people and for the people," we will spare
no efforts to listen to them, open to see them and sympathize with
them.

This website is a space for all of you.
For those who leave valuable comments on the website, we will listen
to them and make their voices heard in the policymaking as best as
we can.

I wish all of you health and good luck.
Thank you very much!