Content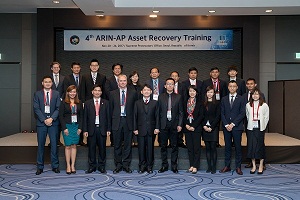 The Supreme Prosecutors' Office invited 16 law enforcement officers
from eight countries including China, Hong Kong, Laos, Myanmar, Singapore, Thailand, the Phillippines and Vietnam, and implemented
the training on criminal asset recovery from November 21st to November 24th, 2017.
The training is aimed at sharing knowledge on criminal asset recovery
and at strengthening cooperation with members of the network.
The training programme consisted of lectures on Korea's Prosecution system, its criminal asset recovery, criminal asset tracing and international law enforcement cooperation; workshops for hypothetical case studies
; and presentations by each participating jurisdiction.
The international cooperation center at the SPO is working as a
secretariat of ARIN-AP.
As of November 2017, 20 members and 8 observers joined the network.